Apple has officially announced iPhone Xs and iPhone Xs Max. The intro video shows two sizes, both available in new gold finishes. Silver and space gray stick around. More details below:
The new iPhones are more water resistant, rated IP68. The glass has been updated to be more durable as well. Second model has 6.5-inch display, 2688×1242 at 458 ppi.
iPhone Xs Max name confirmed — because more screen space than a "Plus" phone. iPhone Xs Max display supports landscape two-column apps like previous Plus phones. 3D Touch sticks around for iPhone Xs and iPhone Xs Max (as expected). Wider stereo sound also included with upgraded speaker system.
Face ID reported to be faster thanks to faster Secure Enclave and faster algorithms. New chip is A12 Bionic, the first 7nm processor. Upgraded Neutral Engine is 8-core, up from 2-core, to power machine learning features.
iPhone Xs and iPhone Xs Max available with up to 512GB of storage, up from 256GB.
iPhone Xs camera upgraded with improved True Tone flash, larger sensor in 12M wide camera. Front facing 7MP camera has faster sensor. Phil Schiller says camera quality improved with new processors and the image signal processor. iPhone Xs features Smart HDR feature with zero shutter lag and exposure adjusting at different intervals of the shot.
iPhone Xs and iPhone Xs Max also feature blur adjustment after Portrait photos are taken. The new iPhones can also record sound in stereo thanks to a four microphone system.
iPhone Xs also touts 30 minutes longer battery life. iPhone Xs Max features the largest iPhone battery with 90 minutes longer usage. Giga-bit class LTE networking, most number of bands for worldwide roaming, and dual SIM support.
Dual SIM relies in part on eSIM, supports up to two phone numbers, and incoming calls specify which SIM is used. In China, eSIM is not supported so special SIM trays that support two physical SIM cards will be sold.
iPhone Xs and iPhone Xs Max up for pre-order on September 14 and shipping September 21. iPhone Xs starts at $999, and iPhone Xs Max starts at $1099.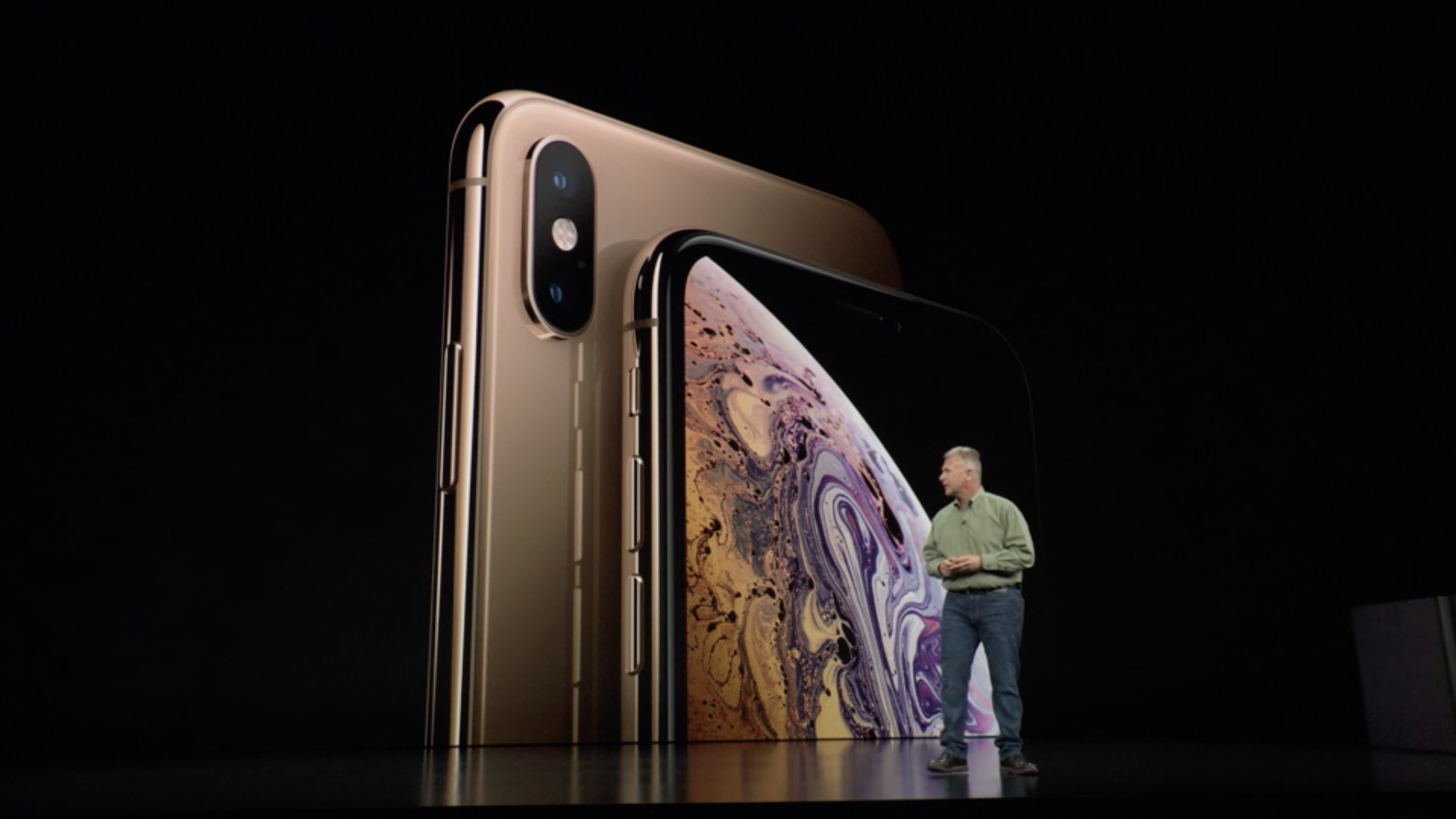 Most Advanced iPhone Ever Features a 5.8-Inch and 6.5-Inch All-Screen Design, with Powerful A12 Bionic Chip and a Breakthrough Dual Camera System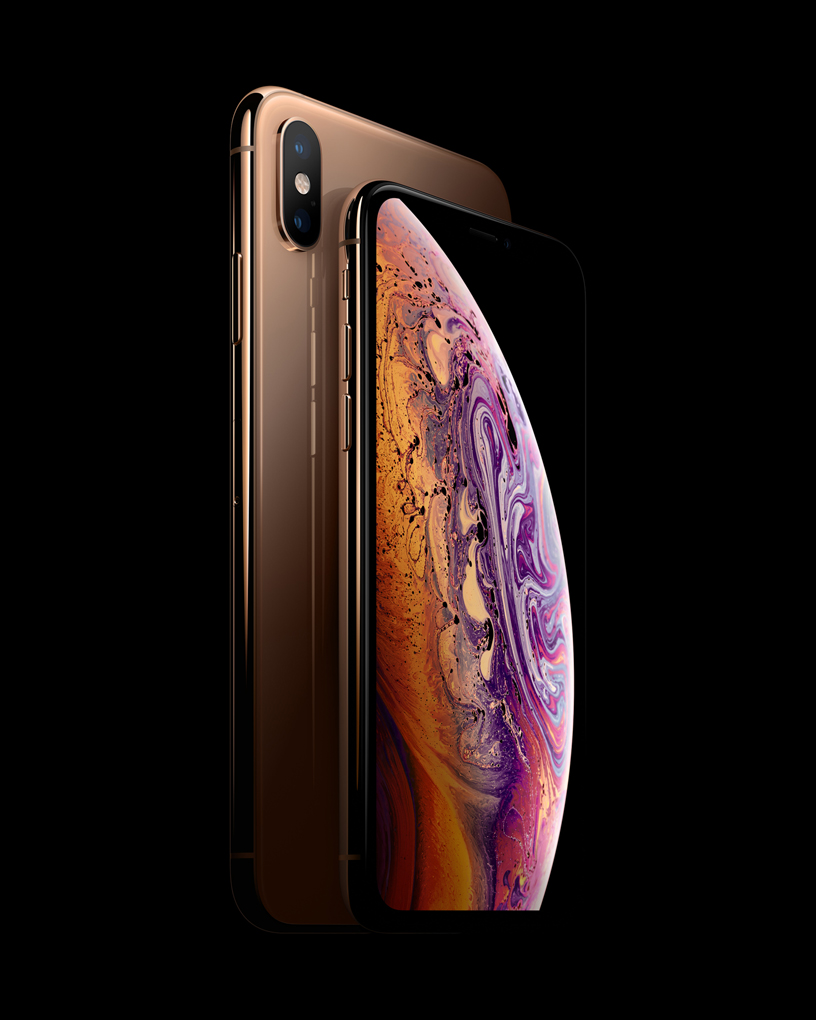 Cupertino, California — Apple today announced iPhone Xs and iPhone Xs Max, the most advanced iPhones ever, taking the vision for the future of the smartphone to a new level. The 5.8-inch iPhone Xs and 6.5-inch iPhone Xs Max feature stunning Super Retina displays, a faster and improved dual camera system that offers breakthrough photo and video features, the first 7-nanometer chip in a smartphone — the A12 Bionic chip with next-generation Neural Engine — faster Face ID, wider stereo sound, a beautiful new gold finish and introduce Dual SIM to iPhone. iPhone Xs and iPhone Xs Max will be available for pre-order beginning Friday, September 14 and in stores beginning Friday, September 21.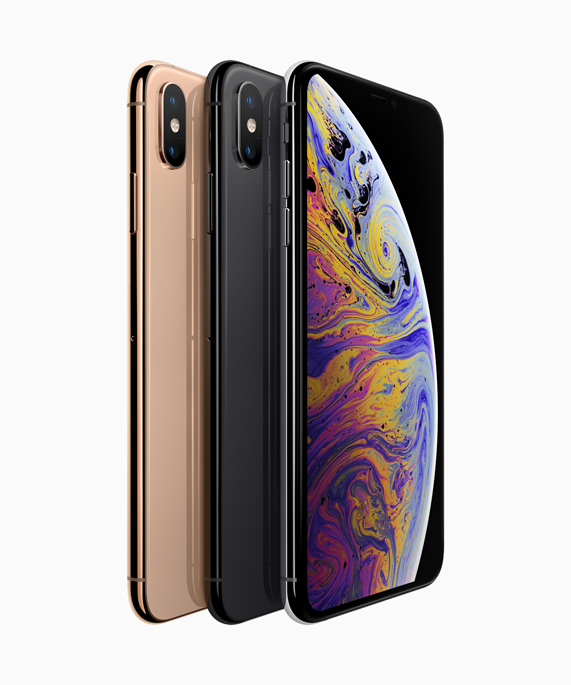 "iPhone Xs is packed with next-generation technologies and is a huge step forward for the future of the smartphone. Everything is state of the art including the industry-first 7-nanometer A12 Bionic chip with 8-core Neural Engine, faster Face ID and an advanced dual camera system that shoots Portrait mode photos with Smart HDR and dynamic depth of field," said Philip Schiller, Apple's senior vice president of Worldwide Marketing. "iPhone Xs is not one, but two new iPhone models, and iPhone Xs Max offers the biggest display ever in an iPhone with the biggest battery ever in an iPhone, delivering up to an hour and a half more battery life in your day."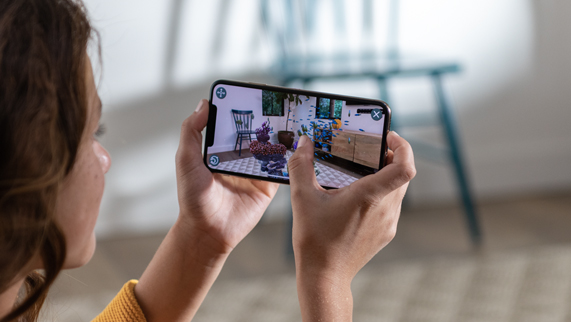 Two All-Screen Designs
iPhone Xs and iPhone Xs Max build on the all-screen design of iPhone X and feature the sharpest displays with the highest pixel density of any Apple device. Now offered in 5.8-inch and 6.5-inch sizes,1 these Super Retina displays with a custom OLED design support Dolby Vision and HDR10 and have iOS system-wide color management for the best color accuracy in the industry. iPhone Xs and iPhone Xs Max offer a million-to-one contrast ratio with remarkable brightness and true blacks while showing 60 percent greater dynamic range in HDR photos. iPhone Xs Max delivers a more immersive experience with over 3 million pixels for videos, movies and games, offering the largest display ever in an iPhone in a footprint similar to iPhone 8 Plus.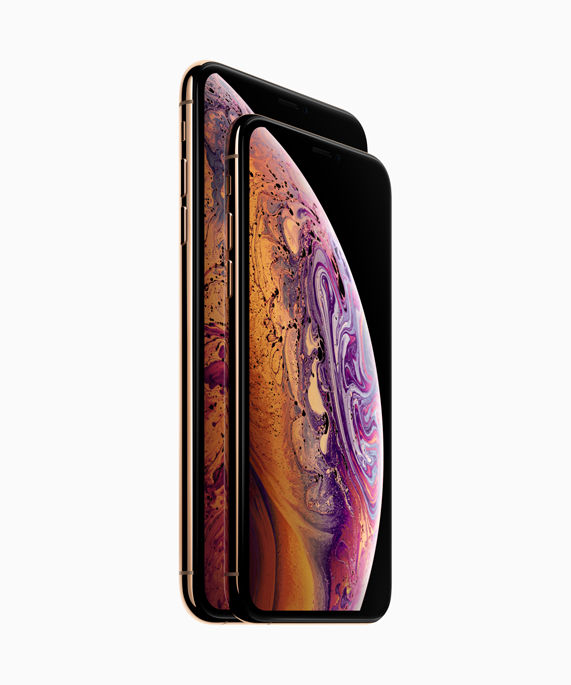 A surgical grade stainless steel band now in gold joins finishes in silver and space gray. Wider stereo playback creates a more immersive soundstage. The front and back glass design features the most durable glass ever in a smartphone with improved scratch resistance, while the glass back enables faster wireless charging. iPhone Xs and iPhone Xs Max reach a new level of splash and water resistance of IP68 for up to 2 meters for 30 minutes and protect against everyday spills including coffee, tea and soda.2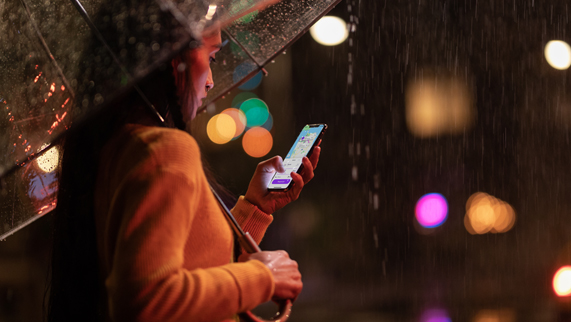 A12 Bionic and Next-Generation Neural Engine
The Apple-designed A12 Bionic, the smartest and most powerful chip in a smartphone, features the first 7-nanometer chip ever in a smartphone that delivers industry-leading performance in a more power-efficient design. A12 Bionic features a six-core fusion architecture with two performance cores that are up to 15 percent faster, four efficiency cores that are up to 50 percent more efficient, a four-core GPU that is up to 50 percent faster, powerful Apple-designed Image Signal Processor (ISP), video encoder and more. A fast storage controller can deliver iPhone storage up to 512GB. All of this unlocks new experiences for games, photography, video editing and graphics-intensive apps. Even with all this power, iPhone Xs offers 30 minutes longer than iPhone X, and iPhone Xs Max offers an hour and a half longer than iPhone X, between charges.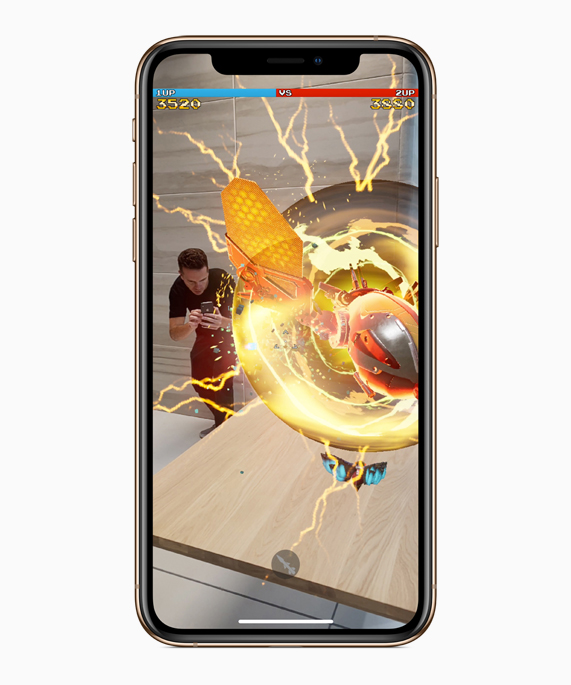 The next-generation Neural Engine is built for advanced machine learning in everything from photography to augmented reality. A new eight-core design allows it to complete up to 5 trillion operations per second compared to 600 billion in A11 Bionic. This enables new capabilities like faster plane detection for ARKit and new features that use real-time machine learning. For the first time the Neural Engine is open to Core ML, empowering developers to build apps that utilize this highly efficient machine learning engine. Core ML running on the A12 Bionic Neural Engine is up to nine times faster than on A11 Bionic, with as little as one-tenth the energy usage.
Breakthrough 12MP Dual Camera System
iPhone Xs continues to bring innovations to photography, things not possible before iPhone. Capabilities like advanced depth segmentation using the Neural Engine, Smart HDR creating photos with high dynamic range and great image detail, advanced bokeh quality in Portrait mode photos and dynamic depth of field that is user adjustable in the Photos app, are all huge improvements in state-of-the-art photographic techniques that everyone can use.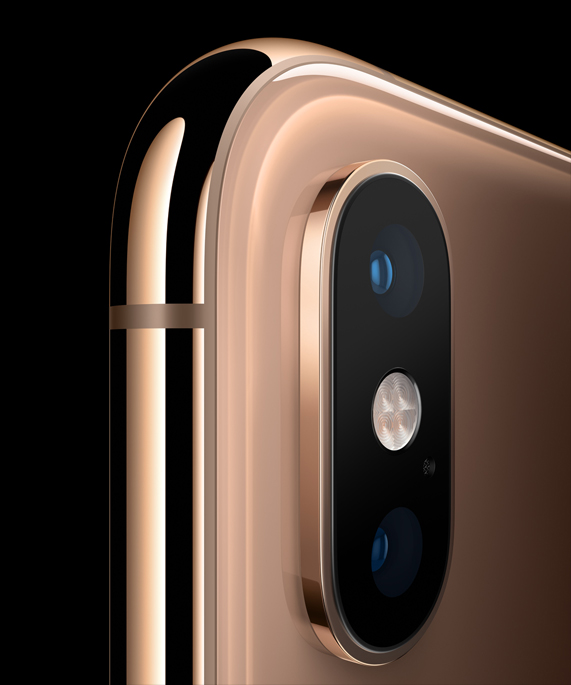 The 12-megapixel dual camera system features dual optical image stabilization with 2x optical zoom, while a new sensor is twice as fast. Smart HDR creates photos with more highlights and shadow detail. Larger and deeper pixels improve image fidelity and low-light performance.